This easy recipe for potato soup is quick and simple, and it only costs a few bucks to make a huge pot of soup. It even tastes better as leftovers! If you want a recipe for truly rich and creamy potato soup, this is the one.
This is basically my grandmother's recipe for potato soup, except I've made a few minor modifications. First, I add a "not-so-secret" secret ingredient to thicken the soup without having to fool around with making a roux. Second, I've added some heavy cream to make the soup a little more rich. (Granny just used milk, which made the soup a bit watery for my taste.)
This soup is absolutely delicious as-is, but you can also add in a few other ingredients to turn it into a loaded baked potato soup, too. Just add some sour cream, green onions, bacon and shredded cheddar cheese at the table. (Everyone can customize their soup to their liking.)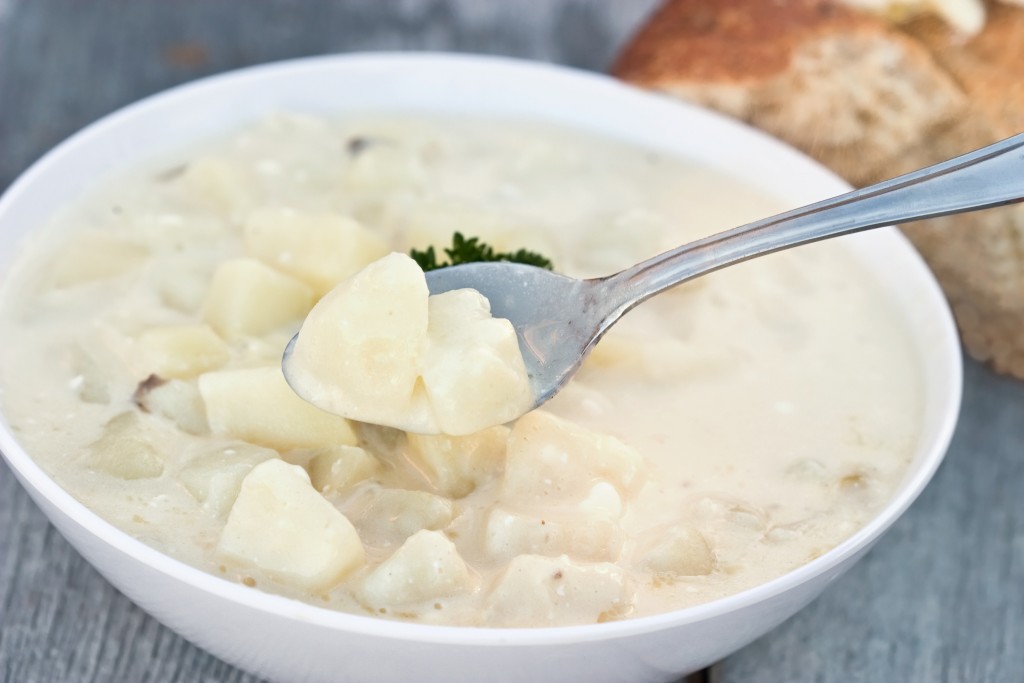 Easy Recipe for Potato Soup
2015-07-06 19:05:58
This potato soup is delicious fresh or leftover.
Nutrition Facts
Amount Per Serving
* Percent Daily Values are based on a 2,000 calorie diet. Your Daily Values may be higher or lower depending on your calorie needs.
Ingredients
8-10 medium size russet potatoes, peeled and cut into 3/4 inch cubes
1 medium onion, diced
water to cover
1/4 cup butter or margarine
4 cups milk
2 cups heavy cream
1 Tbsp salt
1/2 tsp black pepper
1-2 cups mashed potato flakes, to thicken
Instructions
Add potatoes and onions to a stock pot. Cover with water to slightly above the top of the vegetables.
Bring to a boil. Reduce heat to medium and simmer until potatoes and onions are tender, about 20-30 minutes.
Add butter or margarine.
Slowly add milk, stirring constantly. If you add the milk too quickly, it could curdle and cause little milk lumps in the soup. This won't affect the flavor, but it doesn't look particularly appetizing.
Add cream to soup once milk has been fully incorporated.
Season to taste with salt and pepper. I like my soup relatively salty, but I added enough to flavor the soup while still leaving room for people to add more if they wish.
Finally, stir in potato flakes a handful at a time, waiting a minute or so between handfuls to be sure you don't over-thicken the soup. Once the soup is as thick as you like it, you don't need to add any more potato flakes. If you happen to over-thicken, just add a bit more milk.
Notes
Turn this recipe into loaded baked potato soup by adding toppings at the table. You can have bacon, sour cream, green onions and shredded cheddar cheese available so people can customize their soup to their liking.
I Really Like Food http://www.ireallylikefood.com/