I wanted to make a soup recipe that was different than the stuff we normally have. I have about a dozen different soup recipes that I rotate throughout the month, but I just wanted to make something different.
As I've mentioned before, my family LOVES the flavors of Mexican food. Cilantro, tomatoes, chiles… we just can't get enough. So I decided to make a chicken soup that incorporated some of those flavors we love so much.
This green chile chicken soup is the result. It came out fairly spicy, which we love, but if your family is sensitive to spicy food, you can halve the amount of jalapeno or just leave it out altogether.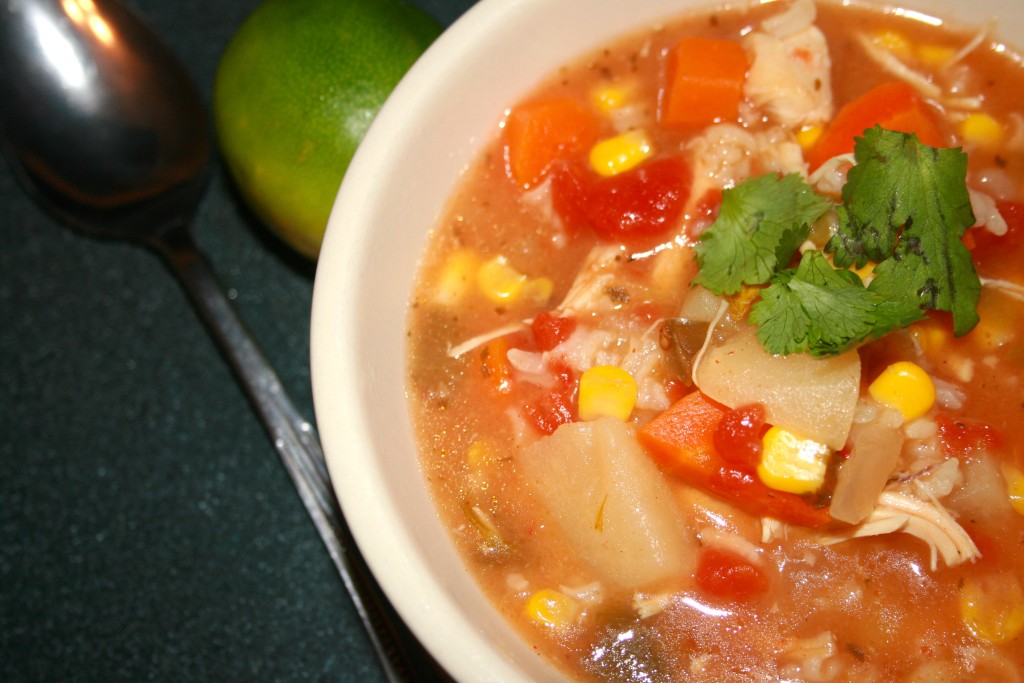 Spicy Green Chile Chicken Soup
2015-07-06 20:24:15
Serves 12
This soup is spicy and rich, but it's also low in fat and healthy!
Nutrition Facts
Amount Per Serving
* Percent Daily Values are based on a 2,000 calorie diet. Your Daily Values may be higher or lower depending on your calorie needs.
Ingredients
48 ounces chicken broth
3 large boneless, skinless chicken breasts
5 carrots, peeled and sliced
1 medium yellow onion, diced
5 russet potatoes, peeled and diced large
2 cups canned diced tomatoes
1 handful fresh cilantro leaves (about 1/4 cup)
2 packets McCormick Chicken White Chili seasoning
1 cup uncooked white rice
1 1/2 cups frozen yellow corn
Optional
Diced avocado and lime wedges, if desired, for garnish
Instructions
Put all ingredients except rice and corn into slow cooker. Add lid.
Turn on high and cook 5-6 hours, or until chicken is tender and will shred easily with two forks.
Add rice and corn and cook another 20 minutes, or until rice is tender.
Serve with diced avocado and lime wedges, if desired.
I Really Like Food http://www.ireallylikefood.com/