Peach cobbler is one of the easiest desserts you can make. Seriously! It tastes like it takes HOURS to make, but really it only takes a few minutes of prep and a quick bake and you have a delicious dessert that people will think you slaved over it.
This easy peach cobbler recipe takes under an hour to prep and bake, and trust me — it's so good you'll get rave reviews every time!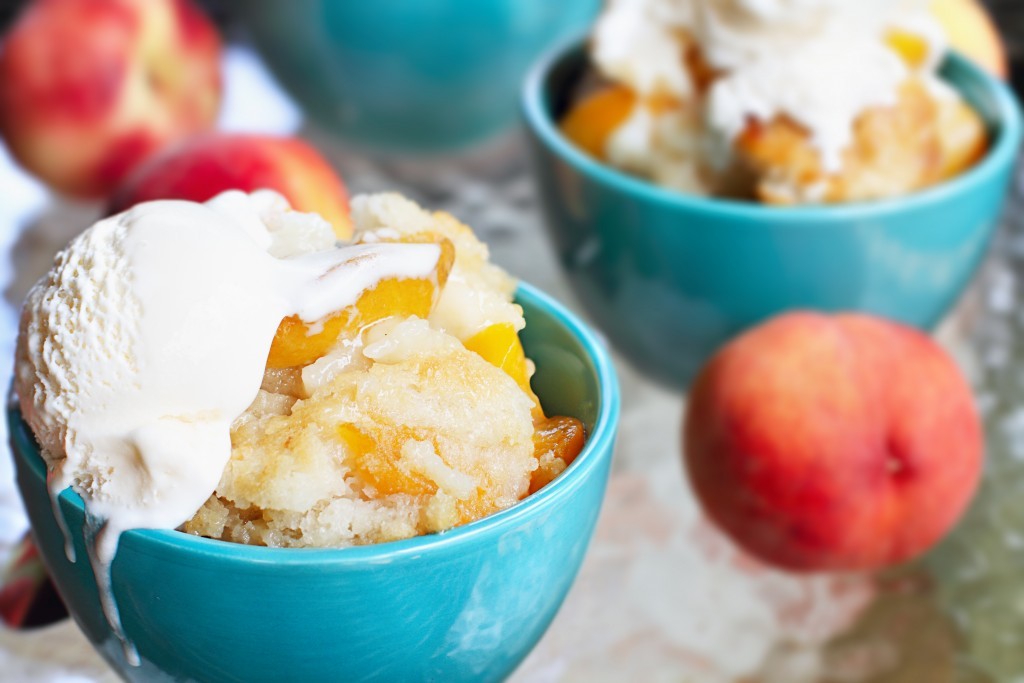 Easy Peach Cobbler
2015-07-06 19:08:14
Serves 4
Sweet, fresh peach flavor with a buttery, flaky crust!
Nutrition Facts
Amount Per Serving
* Percent Daily Values are based on a 2,000 calorie diet. Your Daily Values may be higher or lower depending on your calorie needs.
Ingredients
8 fresh peaches – peeled and sliced into wedges
1/4 cup white sugar
1/4 cup brown sugar
1/4 tsp ground cinnamon
1/8 tsp ground nutmeg
1 tsp fresh lemon juice
2 tsp cornstarch
1 cup all-purpose flour
1/4 cup white sugar
1/4 cup brown sugar
1 tsp baking powder
1/2 tsp salt
6 Tbsp unsalted butter, chilled and cut into small pieces
1/4 cup boiling water
3 Tbsp white sugar
1 tsp ground cinnamon
Instructions
Preheat oven to 425 F.
In a large mixing bowl, combine peaches, 1/4 cup white sugar, 1/4 cup brown sugar, 1/4 tsp cinnamon, nutmeg, lemon juice, and cornstarch. Toss to combine well.
Pour peaches into 2-quart baking dish and bake for 10 minutes at 425.
While peaches are baking, combine in another large mixing bowl the flour, 1/4 cup white sugar, 1/4 cup brown sugar, baking powder, and salt. Blend butter pieces in well using a pastry blender or fork until the mixture looks like coarse bread crumbs. Stir in water until combined, but do not overmix. Roll mixture out on a floured countertop or cutting board until it's about 1/4 inch thick and approximately the same size as your baking dish.
Remove peaches from oven. Lift pastry carefully and lay over peaches.
Combine 3 Tbsp white sugar and 1 tsp ground cinnamon and sprinkle over the cobbler.
Return to oven and bake until the topping is golden brown, about 30 minutes.
Notes
It's ok if your pastry breaks a little or doesn't fit perfectly over your peaches. You can stretch it a little or tuck it in here and there. Part of the charm of a cobbler is its rustic simplicity!
I Really Like Food http://www.ireallylikefood.com/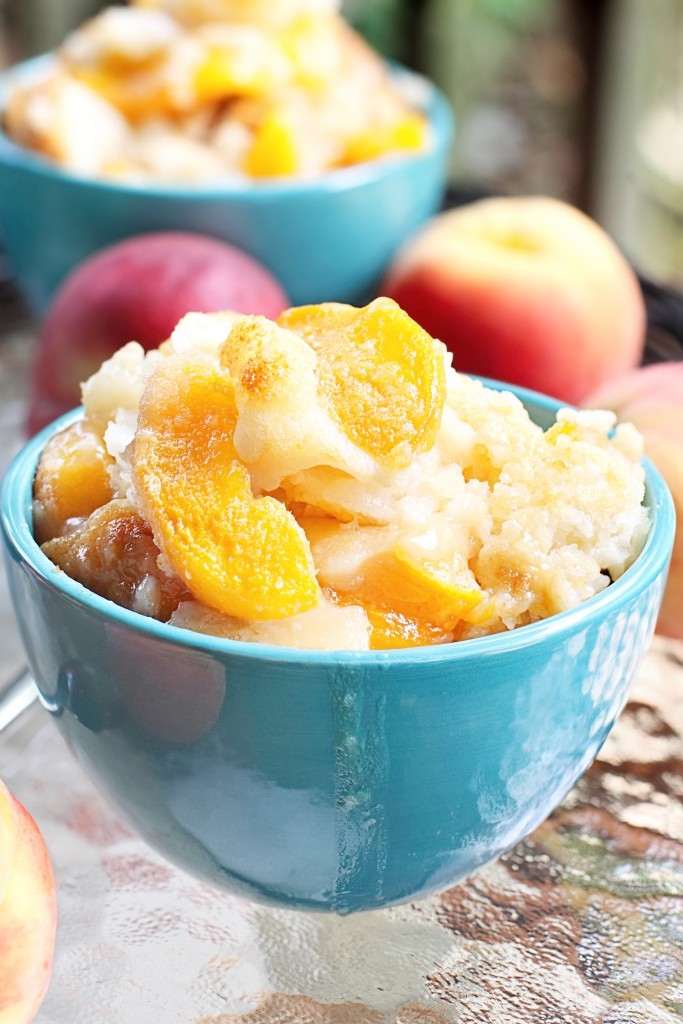 This cobbler is SO good served with vanilla ice cream or whipped cream!