Charlotte Russe is a classic dessert that combines a rich, creamy custard with fruit and gelatine and serves it in a ring of lady fingers or sponge cake. It's a little like a fancy strawberry shortcake, but even tastier, if you can imagine that!
It doesn't get a lot of press lately. Maybe it's because people think it's a little finicky to make. (It's not.) Or maybe they think it's too "fancy" for general use. (Impossible!) But this is one dessert that should definitely make a comeback, STAT! It's perfect for any time of the year, and you can use whatever fruit is currently in season to make a variation that totally fits with any meal. (Think cranberry for Thanksgiving or Christmas, Strawberry or Raspberry for spring or summer…)
This raspberrycharlotte russe recipe is perfect for summer, but you could serve this anytime.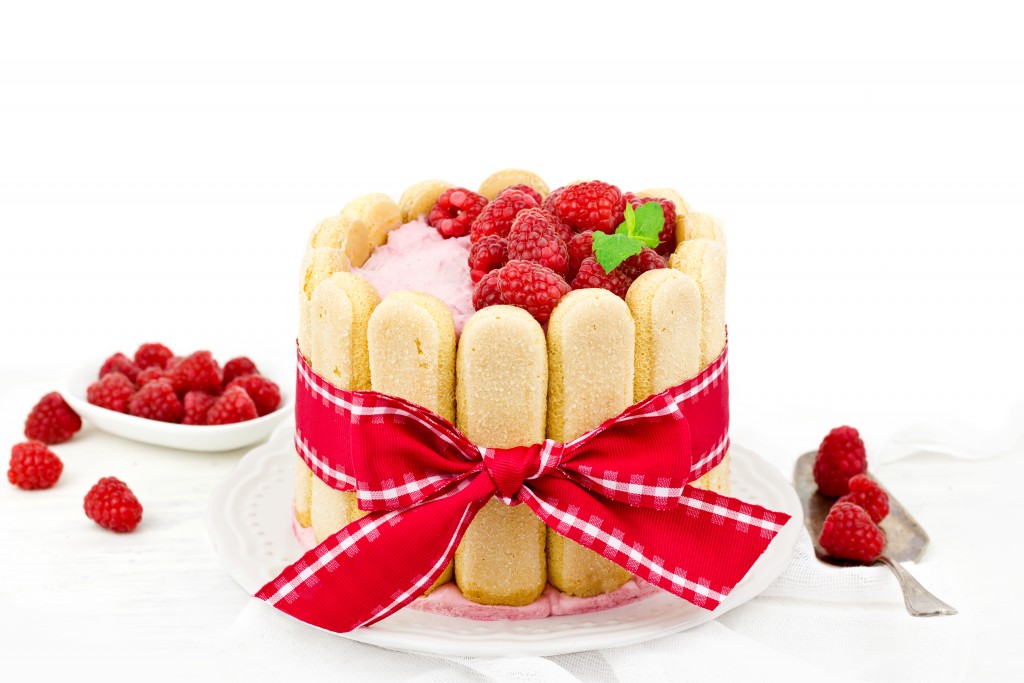 Raspberry Charlotte Russe
2015-07-06 19:12:10
Serves 6
This Raspberry Charlotte Russe recipe is a lot easier to make than you probably think, and it's sure to impress anyone you serve it to. They'll think you spent ages making it!
Nutrition Facts
Amount Per Serving
* Percent Daily Values are based on a 2,000 calorie diet. Your Daily Values may be higher or lower depending on your calorie needs.
Ingredients
1 packet raspberry-flavored gelatin
1 tablespoon cold water
1/4 cup milk at room temperature
3 cups heavy cream
1 1/4 cups sugar
1 teaspoon pure vanilla extract
1 package Ladyfingers
1/2 cup raspberry preserves
7 large egg whites
Fresh raspberries, for garnish
Instructions
Soften gelatin in 1 Tbsp cold water.
Pour milk into gelatin and fully dissolve.
Add 1 cup of sugar to 2 cups of heavy cream and beat until thick and fluffy. Fold in vanilla. Gently fold in gelatin mixture and set aside.
In a 3-quart Charlotte mold, line bottom and sides with Ladyfingers. Be sure there are no gaps. Spread Ladyfingers with a thin layer of preserves.
Beat egg whites to stiff peaks. Fold into whipped cream and gelatin mixture. Spoon into cake mold.
Chill until fully set, about 4-6 hours.
Remove from refrigerator and unmold carefully.
Sweeten remaining cream with remaining sugar and beat until stiff. Spoon into a pastry bag and pipe onto top of cake.
Garnish with fresh raspberries.
Notes
You can easily alter this recipe for any time of the year just by using different fruits, different types of preserves, and using flavored gelatin.
I Really Like Food http://www.ireallylikefood.com/